NoReal realizes the Digital Panorama at the Museum of Cinema in Turin
On 6 June 2014, the Museum of Cinema opens the most impressive work restructuring the exhibition floor dedicated to the Archaeology of the Cinema.
The slogan is "the museum for all": touch tablet instead of traditional captions, "visual-tactile" planes for the blind peoples, mobile app to improve the edutainment sessions. The project won the prestigious "Museum Innovation Award 2014" English.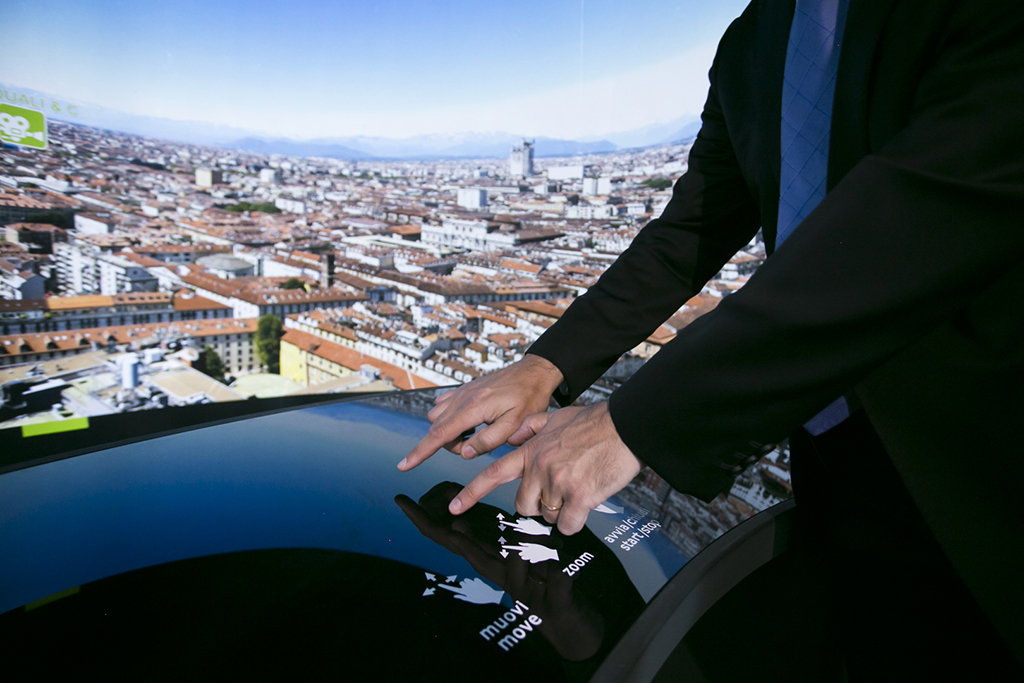 It includes also an immersive, interactive and multimedia environment: the Digital Panorama, imagined by Donata Pesenti Campagnoni, designed by Davide Borra and developed by NoReal.
The historical reference is the Panorama, a circular travelling structure that, since the end of 1700 b.C, offers to visitors, in Europe and USA, an immersive virtual tour, surrounded by the circular paintings of distant places or historical events.
The show was so successful that "panorama" entered in the international common lexico.
After more than three centuries, the Digital Panorama wants to propose this experience in the same feelings, putting the user in the center of a 360° high-definition photo, taken from the top of the Mole in Turin.
Through the tactile interaction you can explore the panorama and the soundscape of Turin, uncovering details, places and sounds meetings that surround the user.
Ten "hotspot" activate the historical movies shot in Turin since 1909, offering emotions through time, space and sound.
Digital Panorama is usable from normal and blinded people.
Concept by Donata Pesenti Campagnoni
Project by Davide Borra
Application by NoReal.it
Software by Fabio Daddario
Gigapicture by Antonino Del Popolo
Sound Design by Vito Martinelli and Paolo Armao
Pictures by Simone Mottura – Blanco y Negro