The arch. Davide Borra designing the new interactive exhibit of MAB Archaeological Museum of Bene Vagienna and NoReal realizes it
The archaeological site of Augusta Bagiennorum, today's Bene Vagienna (about 60Km from Turin, Italy and 40Km from Cuneo, Italy) is the most visited site of Piemonte (North-west of Italy). Not comparable to what you can see at Pompei or the Valley of the Temples in Agrigento, but is a big responsibility for a little community of 3500 people working for two decades for the continuous enhancement of this cultural heritage.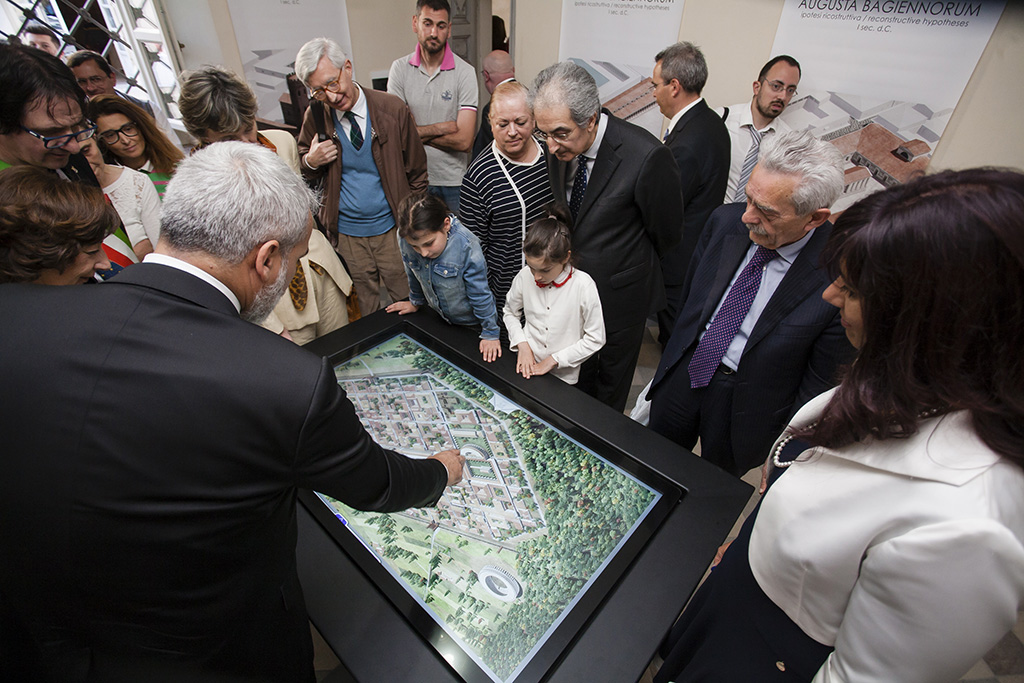 There is also a small museum, which combines guided tours of the archaeological site and didactic and experimental archaeology days by "playing" approximately 12,000 children becoming for a day archaeologist, metal forger, Roman chef, and many other characters, using the materials and the tools of that ancient era.
From May the 21st, 2016, we joined a new educational process, which you can enjoy yourself in the three rooms especially arranged by the project "Fabbrica dell'Archeologia ": a process characterized by the interaction with multimedia totems, an interactive multi-touch table and a LIM large format.
The applications now made are four:
– FORMA URBIS, which builds the city of Augusta Bagiennorum in 3D and then you learn to know the main urban planning, architectural and monumental
– MUSICUS, where you know some of the antique musical instruments and then you play them together simulating an orchestra
– VESTIMENTA, where you can dress you up digitally, as an ancient Roman, taking a picture of you and then by wearing various dresses of 8 different characters, from the Gladiator to the dancer and so on.
– CIPPUS, where it is possible to reveal the inscriptions on the graves in the museum
A large format LIM, using "touch" system, characterizes the media room where the tourist can choose to watch the various videos dedicated to the archaeological site and the teachers will have the free access to the tools to be able to arrange onsite lessons for their students.
The new exhibition project also reviewed the notices of the Museum's rooms, creating a new route, by integrating the information panels and equipping each of the 4 areas with multimedia totems hosting "virtual Ciceroni", 30 children coming from the Benevagienna high school, acting as speakers, explaining in an easy and funny way the archaeological history and finds of the city .
NoReal realized all the multimedia contents and 3D reconstructions, with the scientific validation of Deborah Rocchietti (Soprintendenza Archeologia del Piemonte) who has contributed, together with colleague Luisa Ferrero, for texts of the new information panels.
Opening May 21 at 16:30, c / o MAB, Via Roma 125, Benevagienna (4Km from Fossano, Cuneo, Italy, Highway N. A6 TORINO-SAVONA, exit Fossano)
All info: https://www.facebook.com/benevagienna